Case Studies
Marine Salvage Operations / Dredging Corporation of India Ltd.

India: Salvage at Varanasi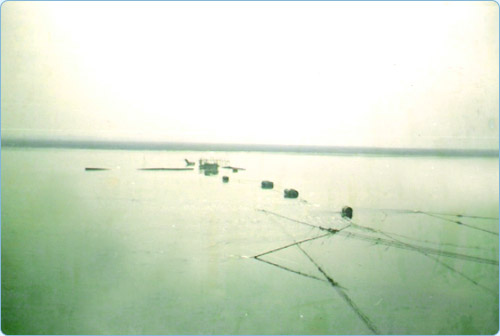 Re-floating the sunken inland dredger


Contract
The inland dredger was working in the river channel for environmental project. During the tide, it could not lift the spuds due to mechanical failure (gears locked) which resulted in flooding of water in all the buoyancy compartments and the dredger sank.
SEALORD Salvage was contracted on 29th December, 2000 for safely refloating the barge.

Our Work
The strong river currents and cold weather disturbed the re-floating operation for a considerable period. Using sea going tugs/vessel was not an option here. The salvage team fabricated 1 small pontoon as diving platform and started dismantling the dredger in separate sections. The buoyancy barrels were attached to the sections and towed to the river bank. The procedure was repeated for all the sections. All the sections were assembled by the technical & mechanical team of Sealord.

Result
The assembled dredger was re-launched in the river and was floating. The client tested the dredger operation and accepted the delivery on 14th March, 2001.

Facts & figures
Discipline
:
Salvage / Re-floating



Facts
:
Re-floating sunken inland dredger "INLAND DREDGER - II"
Client
:
Dredging Corporation of India Ltd. (A Govt. of India Undertaking), Visakhapatnam
State, Country
:
River Ganga near Varanasi, U.P.,
India
Period
:
06th January - 14th March, 2001