Case Studies
Marine Salvage Operations / Mumbai Port Trust

India: Salvage in the main channel to Mumbai Port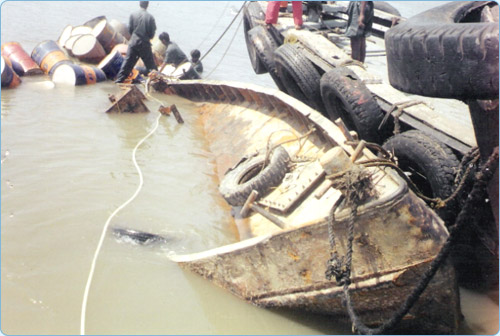 Re-floating the sunken boat & barge


Contract
The boat was towing the barge. All the hatch covers of the barge were opened for maintenance & repair. Due to rough sea conditions, water started entering in the compartments and within no time the cargo holds of the barge were all flooded. Barge started listing and before the crew could cut the towing ropes; the barge pulled the boat along with her and sank. To avoid the disturbance to the harbour traffic, the Deputy Conservator immediately issued work order to the Salvor.
SEALORD Salvage was contracted on 02nd April, 2002 for safely refloating the barge.

Our Work
The Salvage team arrived on site on 04th April, 2002. All openings were sealed and buoyancy tanks were attached for additional buoyancy to both the vessels. Air Compressors were used to pump-in air in additional buoyancy tanks with submersible pumps used to de-water vessel's compartments.

Result
The vessels were re-floated and underwent underwater survey. The re-floated vessels were delivered to the client on 08th April, 2002.

Facts & figures
Discipline
:
Salvage / Re-floating
Facts
:
Re-floating sunken boat "HIDAYAT" and barge "NOOR"
Client
:
Mumbai Port Trust, Mumbai
State, Country
:
Cross Island, Mumbai Harbour, Mumbai,
India
Period
:
03rd April - 08th April, 2002