Services / Offshore Diving Services
Offshore diving is the most well known branch of commercial diving, with divers working in support of the exploration and production sector of the oil and gas industry. The work in this area of the industry typically revolves around the maintenance of oil platforms, building of underwater structures used in the production process, installation, NDT survey, UWILD survey, inspection & survey with CCTV, general inspection, etc.
The offshore diving is carried out as per U.S. Navy & IMCA standard diving procedures. Company has a separate section of Offshore Diving to carry out all types of inspection, maintenance & repairs to vessels & underwater structures by minimizing the risk factor and maximizing the quality output.
SDSPL has workforce to work in & with all types of SURFACE SUPPLIED / AIR / MIXED GAS and SATURATION DIVING systems & equipment.

OFFSHORE STRUCTURES, OIL PLATFORMS,
RIGS & VESSELS
Underwater Inspection, Maintenance & Repairs of Offshore structures.
Pre-engineering surveys.
UWILD surveys.
Diving Support for Pipe laying, Diffuser & Umbilical Installation.
Underwater NDT Inspection using MPI, CP and UT devices.
Underwater Inspection using Underwater Still Photography and Video Photography (CCTV).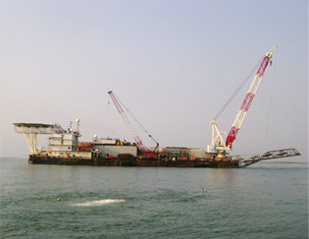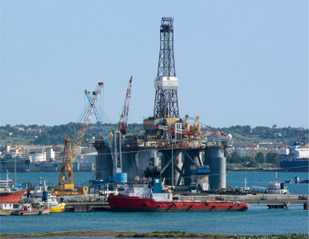 Installation & Replacement of Jacket, Pipelines, Risers, Clamps, Conductors and Anodes.
Installation, Preservation & Maintenance of Offshore Oil Terminals, S.B.M and S.P.M.
Complete flushing of S.B.M. and S.P.M. systems.
Experts & Engineers for handling Anchor Mooring systems.
Underwater cleaning of marine growth using hydro pressure jets.
Underwater inspection, maintenance & repairs of ships and all types of sea going vessels.
Hull & Propeller cleaning & polishing.
Sealing of stern glands.
Blanking of sea suction grating.
Underwater repairs to any Structural Damage.