Case Studies
Marine Salvage Operations / Mumbai Port Trust

India: Salvage off Cross Island in Mumbai Harbour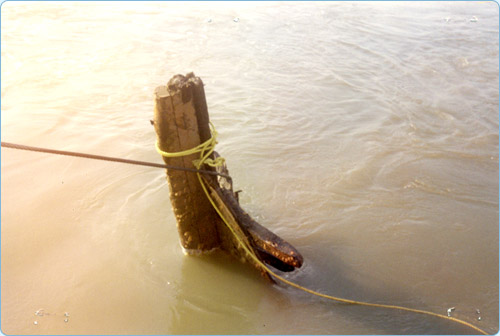 Re-floating the sunken dhow


Contract
The dhow was on her way to Middle East when damage occurred in the Port Side and the dhow sank. The vessel sank in the main channel at the entrance to Mumbai Port. The channel was blocked and disturbed the in-and-out port traffic. The Deputy Conservator took the matter in his hands and immediately issued work order to the Salvor.
SEALORD Salvage was contracted on 06th February, 2002 for safely refloating the barge.

Our Work
The sunken vessel was pulled away from the channel and salvage operation commenced. The salvage team made underwater repairs and sealed all the openings. Additional buoyancy tanks were attached to safely re-float the vessel.

Result
The vessel was re-floated and towed to Mumbai fishing harbor for temporary repairs. The vessel was delivered to the client on 13th February, 2002 in safe floating condition.

Facts & figures
Discipline
:
Salvage / Re-floating
Facts
:
Re-floating sunken "DHOW"


Client
:
Mumbai Port Trust, Mumbai
State, Country
:
Main Entrance Channel to Mumbai Port, Mumbai, India
Period
:
08th February - 13th February, 2002