Case Studies
Marine Salvage Operations / Mazgaon Dock Ltd., Mumbai

India: Salvage at Uran Shipyard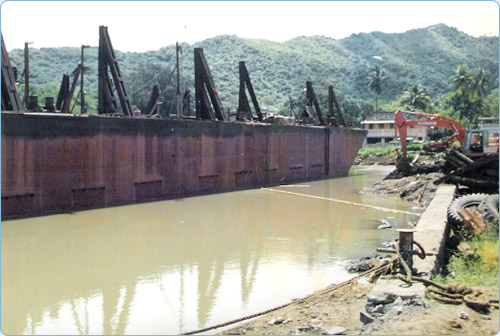 Re-floating the grounded barge


Contract
The barge ran aground during the launching operation. The barge was thrown off the launching track due to an error in calculations.
SEALORD Salvage was contracted on 05th October, 1999 for safely refloating the barge.

Our Work
The team was mobilized on site. The team inspected the site on 08th October, 1998 and informed the salvor to mobilize marine contractors. A meeting was carried out with shipyard officials on 09th October, 1998 to built 3 temporary U-shape (covering all the sides except launching side) cofferdams with 150 meter distance separating each. The work started day & night with onset of low tide. The cofferdams were ready by 12th October, 1998, the salvage team asked to flood-in the dams with sea water. The barge started floating. The towing line was passed and the tug started pulling the barge. The required depth was equalized & maintained in the first 2 cofferdams and cofferdam removed. Same procedure was repeated.

Result
The barge came out in a safe floating condition. After restoring the site and final underwater inspection of the barge bottom, the barge was delivered to client on 13th October, 1998.

Facts & figures
Discipline
:
Salvage / Re-floating


Facts
:
Re-floating grounded barge
"MDL 744/7046"
Client
:
Mazgaon Dock Ltd., c/o M/s. Ocean Diving Centre Pvt. Ltd., Mumbai
State, Country
:
Uran Shipyard, Maharashtra,
India
Period
:
08th October - 13th October, 1998