Services / Marine Construction (Onshore) & Dredging
Onshore diving is the work often being in support of land based civil engineering projects, with the majority of the work either underwater survey or construction work. The number of dive sites and divers can be found working in harbours and / or sheltered waters.
Dredgers can be used to maintain, expand and deepen areas that have progressively become shallow from deposits (silt, mud, sand, etc.). SDSPL has small dredgers (2 nos.) for these projects. They are small and can be easily maneuvered in tight areas. The small dredgers feature a swinging ladder configuration so the dredge can work without external swing wires or anchors.
UNDERWATER MARINE CONSTRUCTION
& DREDGING
Underwater construction services.
Complete Engineering, Installation and Commissioning of Pipeline & Cable laying projects.
Installation & Replacement of anodes, fenders, bumpers, shock observers, etc.
Underwater Survey, Inspection and Maintenance of Pipelines.
Underwater inspection & survey using Still Photography, Video Photography (CCTV).
Underwater Cutting & Welding of sheet piles, liners, reinforcement bars, etc.
Underwater welding of u/w structures, pipelines, etc.
Construction, Repair & Maintenance of Jetties, Ports, Breakwater, Harbour, etc.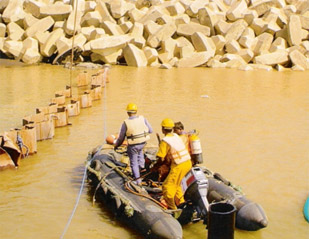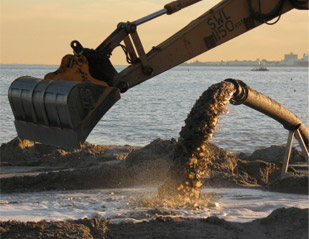 Construction & repairs of sea intakes and outfalls.
Gabion & Block placement under bridges and intake canals.
Underwater services for rock blasting and well sinking.
Underwater corrosion resistant Epoxy coating, Grouting, Reinforcing & Concreting.
Pressure pointing & grouting.
Dredging in Navigational Channel.
Port & Harbour maintenance.