Case Studies
Marine Salvage Operations / Mercator Lines Ltd., India

India: Salvage off Gujarat Coast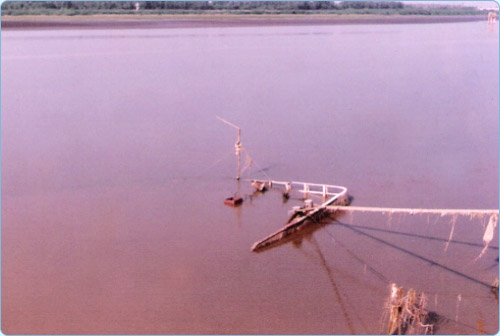 Re-floating the sunken barge


Contract
The barge (self-propelled) was on her way for loading consignment on Port Magdalla, Surat, Gujarat. The crew reported water flooding in the engine room. Within no time the barge started listing & sank. The crew abandoned the barge on time.
SEALORD Salvage was contracted on 25th November, 1996 for safely re-floating the barge.

Our Work
Salvage team arrived on site on 30th November, 1996. Salvage divers commenced and completed the inspection on 01st December, 1996. It was clear with the underwater survey that the barge can be easily re-floated by modifying the hatch covers with air hose connectors and making the hatch covers air tight. Calculations were made and buoyancy was given.

Result
The barge was re-floated and towed to Port of Magadalla for pumping out water from the cargo holds. The barge was delivered to the client in safe floating condition on 15th December, 1996.

Facts & figures
Discipline
:
Salvage / Re-floating
Facts
:
Re-floating sunken barge "M.V. NAND KOYAL"
Client
:
M/s. Mercator Lines Ltd., India
State, Country
:
Port of Magdalla, Surat, Gujarat,
India
Period
:
01st December - 15th December, 1996