Case Studies
Marine Salvage Operations / Viking Lighterage Pvt. Ltd., Gujarat

India: Salvage off Kandla Port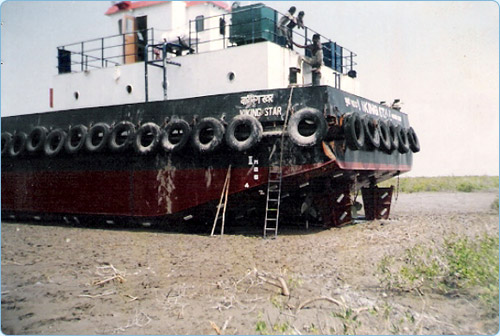 Re-floating the grounded barge


Contract
The barge (self-propelled) ran aground during the 1998's severe cyclone in Gujarat. The barge was in a complete hostile condition and approx. 750 mtrs. from the sea shore. As soon the conditions were back to normal, Sealord was contacted by client.
SEALORD Salvage was contracted on 26th July, 1998 for safely refloating the barge.

Our Work
The marine construction division team was informed and mobilized with team of 4 divers. A temporary cofferdam was built. Excavators were used for trenching a canal with dimension of 800 meter long, 06 meter deep & 25 meter wide. The cofferdam was removed and water entered inside the channel (canal). The heavy duty tractors were used to full the barge from her grounded position into the channel.

Result
The barge was launched in the channel and the vessel Master was asked to start the engines, the barge moved with her own power. The divers carried out the final inspection of the bottom and reported everything OK. The barge was delivered to the client on 20th August, 1998 in safe floating condition.

Facts & figures
Discipline
:
Salvage / Re-floating


Facts
:
Re-floating sunken barge "M.V. VIKING STAR"
Client
:
M/s. Viking Lighterage & Cargo Handlers Pvt. Ltd., Gujarat
State, Country
:
Near Kandla Port, Gujarat,
India
Period
:
02nd August - 20th August, 1998