Case Studies
Marine Salvage Operations / Tramix Trading International Co., India

India: Salvage off Gujarat Coast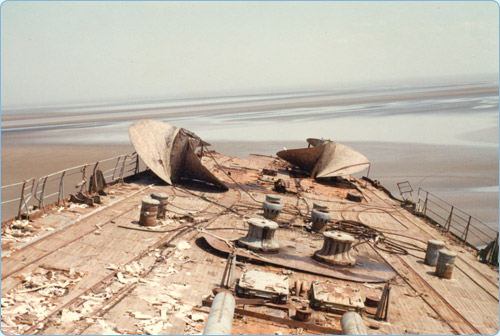 Re-floating the sunken ship


Sub-Contract
The ship was on her way for scrap. The Master reported mechanical breakdown. Due to bad weather & rough sea conditions, the mobilized help could not reach on time and the vessel started drifting from her course. Anchors were dropped but nothing worked. The vessel came to halt after hitting a sand bank (visible during low tide were the variation in depth during tides was more than 06 - 08 meter). The vessel listed and started sinking due to moving silt/sand in that area.
SEALORD Salvage was contracted on 11th October, 2000 as Sub-salvage Contractor for safely refloating the ship.

Our Work
It was a massive operation. Lot of sub-contractors were appointed to work on different sections. The vessel was listed on STBD side with water flooded in her STBD side AFT compartments. Underwater inspections and repairs were carried out; submersible pumps were used to de-water the compartments with onset of low tide. Slowly the list was corrected and vessel re-floated.

Result
The main contractor was informed about completion of sub-contract.

Facts & figures
Discipline
:
Salvage / Re-floating


Facts
:
Sub-salvage Contractor for re-floating sunken ship - "Decommissioned Russian War Ship"
Client
:
M/s. Tramix Trading International Co., Mumbai
State, Country
:
Approx. 2 Nautical Miles from Alang Ship Breaking Yard, Gujarat, India


Period
:
23rd October - 29th November, 2000